There is a lot to consider when heading to a new home in Melbourne. It is undoubtedly the most stressful time in a person's life or for an entire family. For this reason, you will need trustworthy house  removals in Melbourne. It will decrease your stress about the safety of your belongings.
At Move on Removals, our experienced home removalists have the necessary know-how and equipment to make your move day smooth and stress-free. We are a one-stop destination for all your moving needs. We offer on-site assessments, pack and wrap services, removals, and packing supplies like boxes, wrappers, tapes, etc.
Our 4-Step House Moving Process
We work in four easy steps at Move On Removals:
Receive your request and book an appointment.
Visit your house to prepare quotes. We will make and send a free quote within 24 hours.
You have to secure a parking space before our arrival.
Our professional team will start working to settle you in your new apartment or flat.
Being the best House removal services Company, we work with highly-trained and qualified professionals. At Move on Removals, we offer an experienced, skilled man with a van. We are ready to provide personalized services for office and home removals.
Whenever we move, load, or unload furniture, we ensure that we use the right equipment and vehicles. To ensure smooth and stress-free relocation, we, as professional removalists in Melbourne, offer these services:
Loading and unloading facilities
Packing of goods (including electronics, antique items, etc.)
Heavy-duty removals with safety
Disassembling & reassembling electronics, gym equipment and furniture
house movers Melbourne
Storage facility
Office removals
Get a quote or make a reservation by calling (03) 9636 3299
Customer-Centered Melbourne Removalist Team
Move On Removals has an experienced team to move homes and offices. We understand the needs of our customers and plan the whole moving process according to their needs.
In every situation, we offer a long list of moving services in Melbourne to personalize the entire move to suit your budget, timescale and needs. There is no need to pack, load and lift heavy stuff yourself. With our professional house removals, everything will be stress-free and convenient.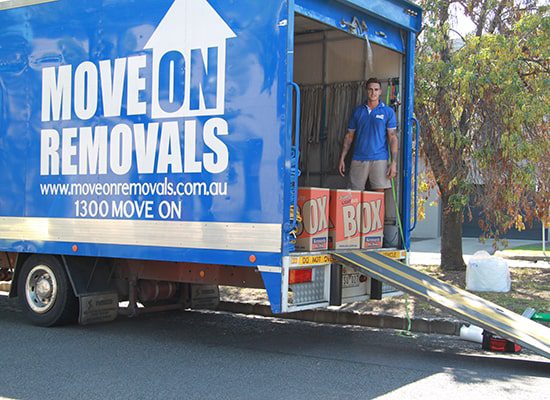 Removalist Packing and Moving Services
With the best house removals in Melbourne, Victoria packing and moving will be a breeze. You don't have to handle everything yourself. We have essential packing materials and pack everything into boxes to help you move easily. After packing your belongings, we use special labels to mark each box containing the room's name.
Our packing supplies include wrapping sheets, boxes, markers, tapes, and bubble wrap. To give you the best removalist services, we go the extra mile and provide you with extra protective material for packing your fragile goods, such as delicate photo frames and glassware. Working with the best House removals in Melbourne, Victoria, gives you peace of mind and happiness.
Deliver Goods Safely Through Removalists In Melbourne
Move on Removals Melbourne can pack your belongings with maximum attention. After packing your goods, we mark them to distinguish the products of each room. If you want the security of your fragile belongings, you can hire our house removal service. Our professionals are trained to bind all packaging boxes with tape to avoid possible issues.
Best Moving Experience
Our team of professional house relocation movers in Melbourne will load all goods with utmost care and safely transfer them to your new company or home. After the boxes and goods are unloaded, we will divide them into different rooms so they can be unpacked easily. Feel free to hire our experts for packing, loading, unloading and unpacking.
Best Storage Facilities
Do you need storage facilities between your current location and a new home? Our house removalists Melbourne have long-term and short-term storage facilities. With Move On Removals, you will find modern and secure storage facilities at an affordable price. It will not disturb your budget.
Furthermore, Move On Removals provides secure private storage units near me, racking commercial and archive storage, and 24/7 CCTV surveillance. Full handling capabilities and inventory management are also available. So whether you have a state-of-the-art sound system, antique furniture, or priceless glassware, Move On Removals can handle it all.
Even though our house removals experts pack quickly and efficiently, we take great care and pay great attention to every detail. Perfect packaging material supplies and well-trained house removals are our specialties. Our knowledge and experience enable us to safely transport your fragile items in and around Melbourne.
Best Furniture Removals And Mover
Packing the contents of your house in an organized and thorough manner is difficult for even the most experienced house removalists in Melbourne. We can disassemble and assemble your furniture. There is no need to worry about hidden costs and other charges. Our removalists are efficient and competent to take your relocation experience to the next level.
Our team members are extremely professional in their approach and method. For in-house training of our teams, we have the best training experts. They adhere to safety standards and norms. At Move On Removals, we believe house/office relocation is an art. We are always ready with our finest quality of services to decrease your stress and save time.
Local House Relocators in Melbourne
When it comes to hassle-free residential relocation in Melbourne, we, as Melbourne Local Movers, stand out as your trusted partner. Our dedicated team specializes in providing exceptional moving assistance if you're moving locally. We offer a range of full-service moving solutions designed to make your move as smooth as possible.
For those seeking residential relocation within Melbourne, our expertise extends to apartment relocation, home shifting, and offering valuable home moving tips. We understand the nuances of the Melbourne area, ensuring that your belongings are safely transported to their new destination.
But our services don't stop there. Melbourne Local Movers is equally proficient in catering to Melbourne's corporate relocation needs. Whether you require office relocation services or business relocation experts, our team is equipped to handle your specific requirements. We combine local knowledge with professionalism and efficiency, ensuring your belongings are in safe hands throughout the journey.
Move On Removals takes pride in being the top choice for Melbourne residents and businesses seeking reliable and expert moving services.
Removalists Melbourne Professional Competency
As one of the best Removalists in Melbourne, our services are highly efficient and effective. We understand that professional furniture relocation is not an easy task. Feel free to arrange a meeting with our experts and get the necessary information about this procedure.
Move On Removals can be the best choice if you need local house removals to make moving easy. You do not need to worry about the cost of house removals because we offer affordable services. We always provide house removals and storage services within a set time and date.
---
Frequently Ask Questions
Q: Why do I need professional service in Melbourne to move with kids?
Moving into a new home can be a daunting experience, but moving with a young family and little ones can cause even more difficulties. It is impossible to do your packing and moving without being distracted by them. It is important to hire professionals like us if you want to avoid such a situation. As the best moving company in Melbourne, we can do everything from packing, moving and cleaning. So you can trust our expert house removals team to take care of everything.
Q: Why do I choose Move on Removals as my house removalists?
Move On Removal's exceptional house removals experience will make your next move smooth and relaxed. We have everything to deliver the best services and unforgettable moving experiences. Call us to move everything from a new house or office. We have a dedicated team to handle every big and small job.
Q: How do our furniture removalists work to move house?
We make the entire process of house/office moves look simple. After starting with a detailed assessment of the factors, we plan everything to decrease your stress. We understand the difference between a house and an office move. Our experts can increase your happiness and satisfaction by paying attention to individual cases.
Q: What is the secret of Move On Removals house move success?
Our moves vary from client to client, but our dedication, sincerity and professionalism towards each job remain the same. We understand the importance of each small and big move. We pride ourselves on the organization and planning we put into every move we perform, enabling us to deliver exceptional service to each customer.
Trusted Relocation And House Removal Services Melbourne
When you need reliable relocation and removal services in Melbourne, trust Move On Removals. We're dedicated to making your move stress-free with our experienced professionals, comprehensive services, and unwavering commitment to safety and care.
Why Choose Move On Removals
Hassle-Free Experience:
Experienced Team
Customer-Centric Approach
Affordable Services
Peace of Mind